IRS Audits
The words "tax audit" are among the scariest in the English language. If you've received notice of an impending audit by the IRS, your first instinct might be to panic. However, with the audit IRS specialists at Acello Tax Resolution Group on your team, you can take a deep breath. We have a network of CPAs, enrolled agents, and tax lawyers available, and we'll be by your side throughout your audit from the IRS, working to give you a smooth and stress-free experience. Our goal is to get you the best possible result to your individual or business audit in Wichita. Put your tax problems in capable hands by contacting Acello Tax Resolution Group today!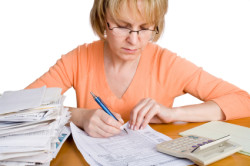 Our audit defense services include:
Determining possible reasons for your audit by the IRS
Gathering paperwork to support your claims
Representing you during the audit proceedings
Negotiating tax settlements such as an offer in compromise
Filing an appeal if the tax audit goes against you
Advising you on avoiding IRS audits in the future
At Acello Tax Resolution Group, we put quality workmanship first. We offer the detail-oriented, thorough, and personalized service you want and need when you're facing an audit from the IRS. Getting you the most favorable outcome is our number-one priority. That means going through your records with a fine-toothed comb, coming up with a viable plan of action for the audit defense, and staying by your side until your tax problems are a thing of the past.
Comprehensive Audit IRS Services
Acello Tax Resolution Group is pleased to offer both individual and business audit representation. We're also available for both state and federal audit assistance. Whether you're one of the unlucky few who has been selected for an audit at random or your looming audit is the least of your tax troubles, we have the specialized knowledge and skill to meet your needs. We've seen our share of IRS audits in our years on the job, and we'll put everything in our arsenal to the task of helping you come through yours.
In addition to striving to offer some of the best IRS audit services available in Wichita, Acello Tax Resolution Group tries to give our clients fast turnarounds whenever possible. An audit comes with a deadline attached, and we'll help you meet that deadline. We'll aim to solve your IRS problem before it can get any worse. Prompt response times and efficient service set us apart among our competitors in the local area.
Call or e-mail Acello Tax Resolution Group today to learn more! We're standing by to take your call, and to give you the help with IRS tax audits that you need to move forward. We'll work hard for you. 
tax audit
irs audit
offer in compromise