Back Taxes Help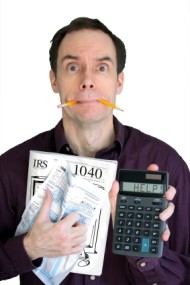 If you're tired of being weighed down by back taxes and related penalties, it's time to seek professional tax help. If you live or own a business in the greater Wichita area, you can put your trust in the pros at Acello Tax Resolution Group. We're a knowledgeable and skilled network of tax assistance specialists offering a wide range of services, including help with back taxes. We'll guide you through the process of back tax resolution so you can move forward onto firmer financial footing. We're ready to get started today, so contact us now to schedule your initial consultation!
Depending on how serious your delinquent taxes have become, you might need us to:
File late tax returns on your behalf
Negotiate settlements to help you pay your debt
Petition to have penalties lifted
Advise you on avoiding back tax issues in the future
And more!
The key to IRS back taxes is getting help as soon as you realize you have a problem. The longer you wait to resolve delinquent taxes, the more your debt will snowball. Eventually, you might find yourself with more in unpaid taxes and fees than you'll ever be able to repay. Whether you're already at that point or you've had to file a single tax return late and want to avoid further problems, Acello Tax Resolution Group can provide the tax help you need. We care about giving you fast turnarounds whenever possible. We don't want you to live under the shadow of unpaid taxes any longer than necessary.
Top-Notch Tax Assistance
Acello Tax Resolution Group takes pride in offering some of the best help with back taxes that you'll find in all of Wichita. Our network of enrolled agents, tax attorneys, and CPAs is attentive, thorough, and detail oriented. We always work to tailor our back taxes help to our clients' specific needs and circumstances. Tax problems don't exist in a vacuum. We'll take the time to learn about your situation in order to give you effective solutions.
To get more information about how we can help you with your IRS back taxes, call Acello Tax Resolution Group today! From filing back taxes to negotiating tax settlements and beyond, we're the company to trust with all of your professional tax needs. Our back tax specialists are intimately familiar with both federal and state tax codes, and we are available to assist both individuals and business entities. No tax problem is too large or too small for Acello Tax Resolution Group. Let us put our expertise to work for you. 
Back Taxes Assistance
Tax Help
Delinquent Taxes
Back Tax Problems
IRS Back Taxes