Services Offered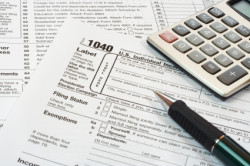 Are you tired of struggling with tough tax problems? Whether you owe back taxes, you've been hit with a tax penalty, or you're facing a tax audit, Acello Tax Resolution Group can help. We're Wichita's choice for state and federal tax resolution. We offer both individual and business tax help. Our specialists are extremely knowledgeable about the relevant tax codes and will work hard to ensure that you get the tax relief you need. When you're ready to hire attentive, detail-oriented, and thorough tax consultants, pick up the phone to call Acello Tax Resolution Group! We look forward to giving you the tax help you need.
We offer a wide selection of tax resolution services. Contact us for help with:
Back taxes
Tax penalties
Tax settlements
IRS audits
Business tax problems
Payroll tax problems
Property taxes
Resident alien taxes
Tax relief for truckers
And much more!
Our tax consultants are skilled and experienced. We'll work tirelessly to give you the tax help you require to leave your tax problems behind. If you need the services of an enrolled agent, CPA, or tax attorney, we're connected with a network of qualified industry professionals. We'll put you in touch with the right person to help you.
Top-Notch Tax Resolution Services
At Acello Tax Resolution Group, we put quality workmanship above all other considerations. After all, when you hire a tax resolution company to resolve your federal or state tax issues, you need to be sure the job gets done right. The IRS cares about accuracy—and so do we. We'll also tailor our tax assistance to your specific needs and circumstances, avoiding cookie-cutter solutions. We want to bring an end to your income tax problems without causing you any further financial hardship.
Fast Turnarounds for Tax Relief
Whether you're facing a tax audit or you owe a back tax debt, chances are you've been given a deadline by the tax authorities. It's important that you meet that deadline, and Acello Tax Resolution Group will help you do just that. We strive for some of the quickest IRS assistance turnarounds. We'll meet your needs as promptly as possible without ever sacrificing the quality of the work we do.
If you need help negotiating a tax settlement such as an offer in compromise, you've received notice of an audit by the IRS, or you're having business tax problems, help is on the way in Wichita. Acello Tax Resolution Group is standing by to provide the knowledgeable and skilled tax services you need to become IRS compliant. Wave goodbye to your income tax problems by calling us today!
Acello Tax Resolution Group is only available to provide tax preparation when it is needed to resolve a larger tax problem. We apologize for any inconvenience this may cause.